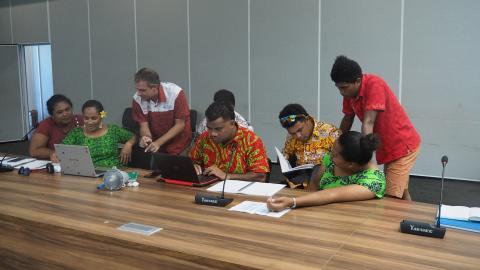 This week, staff from the Tuvalu Meteorological Service join other government departments and civil society organizations in Funafuti to participate and engage in technical training on climate and ocean science and coastal hazard assessment and monitoring.
The week-long training also provides scientific background on atoll formation and atoll geomorphology.
Facilitated by technical experts from the Pacific Community (SPC), the training also provides participants with awareness and understanding of ocean dynamics and the tools available to access ocean data and apply it to their respective work related to oceans.
The training is supported by the Tuvalu Coastal Adaptation Project (TCAP), the Climate Risk Early Warning System (CREWS) initiative, and the Enhancing Climate Information and Knowledge Services project.
Next week a technical training on disaster risk assessment will be facilitated by the team from SPC followed by a stakeholder engagement session.
See insights and ads
All reactions:
22